«CLARINET: an instrument of torture played by a man with cotton in his ears; there are only two things worse than a clarinet: two clarinets.»
*The Devil's Dictionary by Ambrose Bierce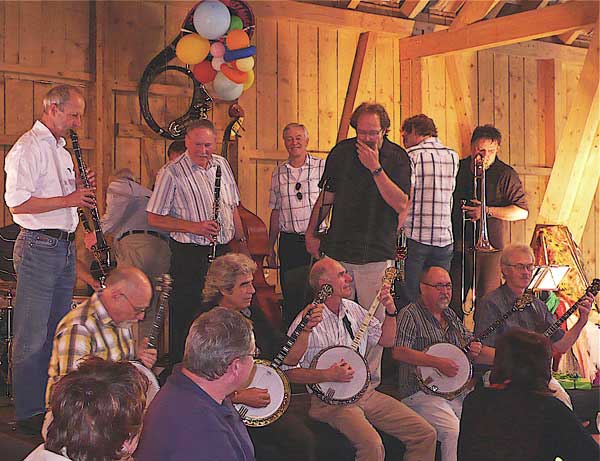 Klarinette übte ich nach meinem Austritt bei den Janglers 2010 im stillen Kämmerlein oder packte die Uebel bei Freunden aus, selbst wenn fünf Banjos «The World is Waiting for the Sunrise» spielten.
Am Klavier/Flügel/Stage Piano bin ich dann und wann und ausserhalb des Kämmerleins zu hören, meist mit Shrink&Jazz.
Shrink&Jazz
Vocal-Jazz-Quartett mit
Sandra Geiger (voc), Jürg Lendenmann (p), Walter Fehr (b), René Tanner (d).
Lust auf eine Hörprobe?

Sandra's Choice hiess die Vorgänger-Band mit den gleichen Sidemen:
Cheek to Cheek >> mehr
Und wer Lust hat auf Saxofone, ist mit dem alive SAXtett gut bedient.
Seit 2016 spiele Klarinette ich beim Swing Castle Team.